Many buildings call for different materials and designs with panels forming an integral part of glazed screens, curtain walling as well as windows, doors and cladding. Whilst Superior Insulated Panels already offer a wide range of panels we can also cater for that special design brief that requires something bespoke and made to order.
Superior Insulated Panels are able to manufacture to your precise requirements and in consultations with our expert Technical Department a made to order service on aluminium panels.
Whether your particular requirements are to glaze a curtain walling screen, create a feature in an aluminium door and for all commercial as well as residential installations, Superior Insulated Panels can custom manufacture.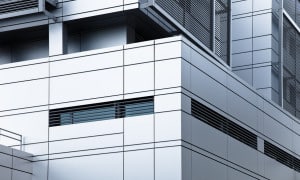 For many years we have worked with our aluminium door and window fabricator base, architects, main contractors and building owners, creating specialist panels or panels to a particular design. Whether these are required to be specially coated, meet particular insulation requirements, specific U Values or to match a particular "look", Superior Insulated Panels can help.
We have access to the whole of the market in insulation material, bonding and adhesive materials as well as utilising our extensive manufacturing facilities with machining centres, saws, bending machines, guillotines and much more. Whatever your requirements in aluminium panels or cladding panels, Superior Insulated Panels can help.
We are one of the only panel manufacturers in the United Kingdom to also powder coat our own materials utilising our state of the art powder coating plant and offering powders and colours from the leading names in finishing such as Akzo Nobel, Interpon, Tiger and many more.
We currently work with a number of major building contractors, aluminium fabricators, systems companies and architects helping to create stunning buildings, rich in colour and texture with our range of aluminium insulated panels.
Contact us to see how Superior Insulated Panels can help you with your next project.
[widgets_on_pages id="bespoke"]