Front doors used in the home and commercial buildings, frequently require insulated panels. How aluminium panels in front doors are used, depends on the door type and the look the client wants. Here, we explain some of the ways different aluminium panels in front doors give a different look depending on the thickness used and the door type, residential or commercial.
Why we use aluminium panels in front doors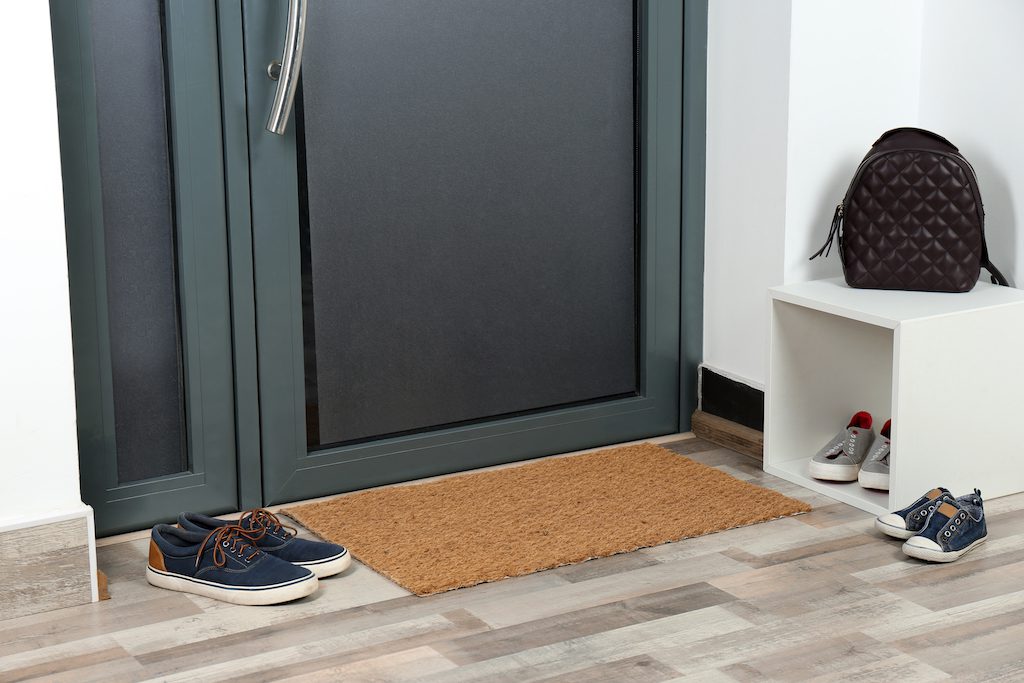 Aluminium panels in front doors have many uses. First of all, is creating an opaque front door where glass means loss of privacy.
For the side of the house, the panels below the midrail create more protection for the door compared to glass, without looking through the bottom pane at the floor. They're also widely used for inserting pet flaps.
With insulated panels being some of the most energy-efficient of all glazing materials, using them in front doors also creates a highly insulated front door product, helping lower energy bills and often coming with lower U-Values than glass units.
Probably the biggest reason for using aluminium panels in front doors is their decorative effect where a full glass door isn't required. Available in contemporary or traditional styles, these panels can set off the front of the home perfectly, creating a distinctive and welcoming entrance.
In commercial buildings, aluminium panels are widely used in rear fire-exit doors, bin-stores, plant rooms and anywhere needing doors with all the functionality but without glass.
Which aluminium panels in front doors are best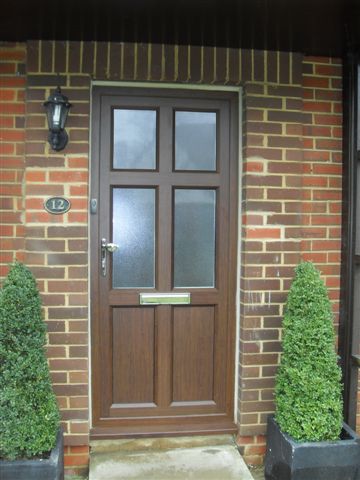 When we talk about the best door panels for front doors, we're talking about the glazing thickness. Most aluminium doors used a 28mm panel as shown here with this front aluminium door in a dark sublimated wood finish.
28mm panels in front doors are fast, effective and work with virtually any type of system, suitable for double glazing. The only drawback, if there is any, to these doors is they create a picture frame effect and don't sit flush with the aluminium profile.
The choice of mullion and transom options available on front doors means bespoke designs can be created. The correct positioning of mullions and transoms in doors and when used in conjunction with aluminium panels and glass can create very unique doors.
The image on the right shows an aluminium door in a sublimated wood effect finish.  The placement of 28mm insulated aluminium panels below the midrail and on either side of the bottom, mullion demonstrates how you can create a traditional looking front door.
Getting a flush looking aluminium front door
When you specify thicker aluminium panels in front doors, the effect is one of a more flush looking door because it's more in line with the profile and glazing bead edges.
Creating this more flush appearance does require a slightly different construction and edge detail to the panel. Once we know the profile you're using and the glazing method, we can advise the most suitable panel design.
Of course, all our aluminium panels come with a choice of thermal insulation options, ranging from the standard polystyrene core, right up to panel solutions with enhanced strength or energy efficiency.
Aluminium panels in commercial doors.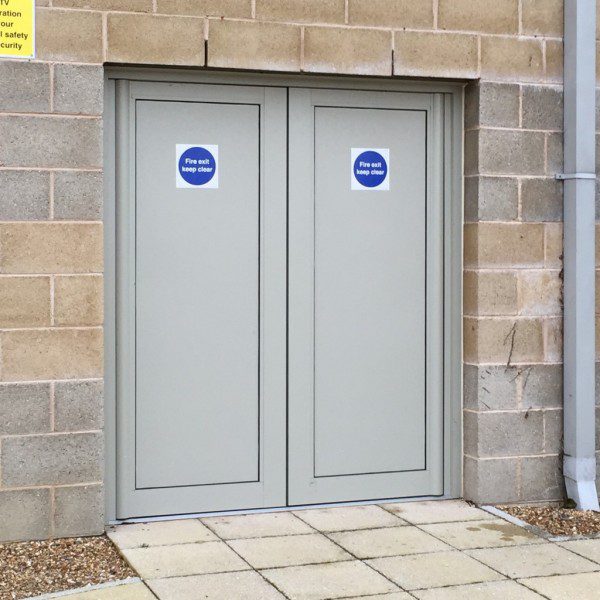 In commercial doors such as these to a plant room, the obvious benefits of aluminium panels can be seen.  
Commercial doors are widely used in schools, shops, offices and factory buildings.  Here full height 24mm powder coated grey panels are used to create a highly secure door.
The panels not only perform the function of keeping door secure with no glass to break, but also keep prying eyes away from whatever is positioned behind the doors.
Therefore, aluminium panels are ideal for commercial doors where a glazed door is not required.
Again the advantage of using aluminium panels in front doors, rear or side doors is the ease of glazing, just like fitting a piece of glass with the same beads and gaskets.
Quality aluminium insulated panels for doors, windows and construction
At Superior Insulated Panels, we expertly make a range of panels, pressings and aluminium fabrications for the fenestration and construction markets. 
All we need to prepare a fast quotation is your sizes, panel thickness and required colour. It's that easy. But you can also find out more about how you can get a quote or order insulated panels.