Aluminium panels have many uses in construction and particularly for commercial buildings.  Widely used in many construction project, aluminium panels are a cost effective solution, providing thermal, design and performance benefits.
Aluminium panels however, can also have a wide range of uses in the home and in particular with front doors.
Aluminium Doors with panels.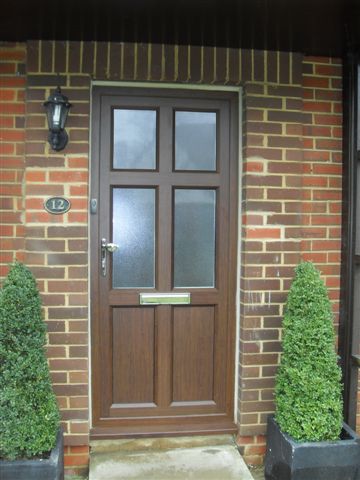 Aluminium doors are very popular as front door solution.  One advantage they have over traditional PVCu or panelled doors is that they are versatile in their design.
The choice of mullion and transom options available on front doors means bespoke designs can be created.  The correct positioning of mullions and transoms in doors and when used in conjunction with aluminium panels and glass can create very unique doors.
The image on the right shows an aluminium door in a sublimated wood effect finish.  The placement of 24mm insulated aluminium panels below the midrail and either side of the bottom mullion demonstrates how you can create a traditional looking front door.
Aluminium panels in commercial doors.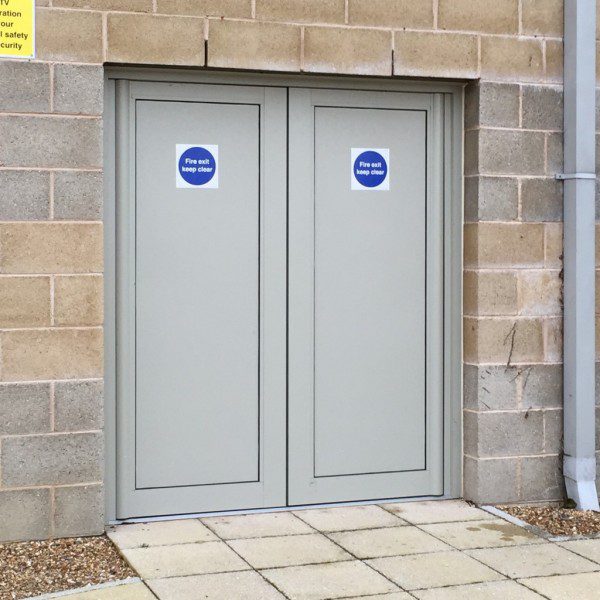 In commercial doors such as these to a plant room, the obvious benefits of aluminium panels can be seen.  Commercial doors are widely used in schools, shops, offices and factory buildings.  Here full height 24mm powder coated grey panels are used to create a highly secure door.
The panels not only perform the function of keeping door secure with no glass to break, but also keep prying eyes away from whatever is positioned behind the doors.
Therefore, aluminium panels are ideal for commercial doors where a glazed door is not required.