Old offices and factory buildings frequently use aluminium panels for refurbishments and bringing an older property back to life. Often the reason for carrying out substantial work to the exterior of a building is better energy efficiency as well as an improved appearance.  We give some insights into the benefits of aluminium panels for building refurbishment projects.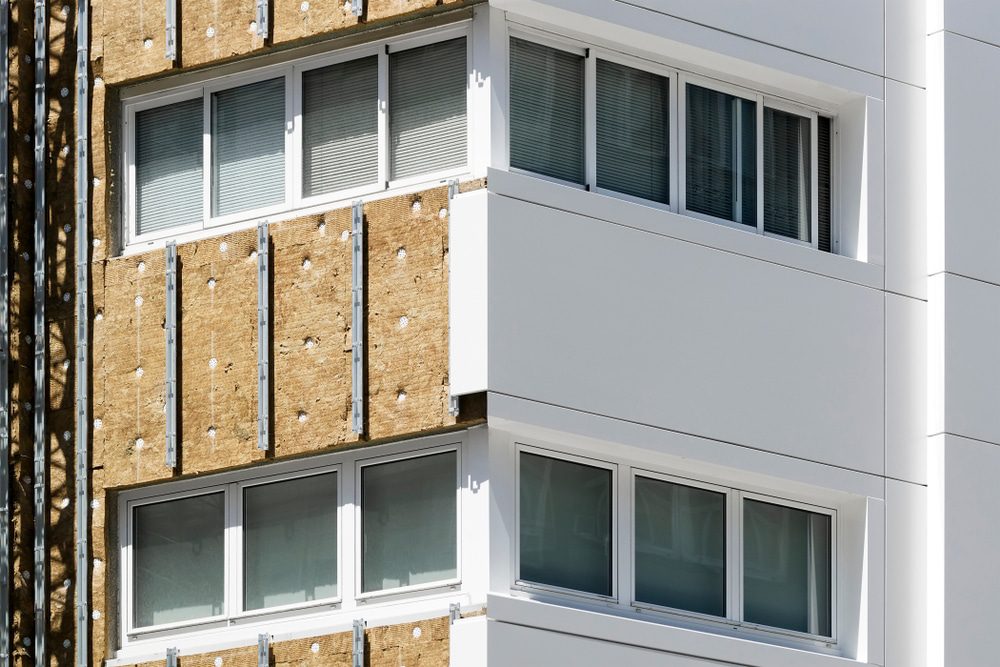 How aluminium panels benefit building refurbishments.
For the occupiers of old offices, factories and warehouses, re-locating the business to a new building is costly, disruptive and not always an option.  However, older commercial premises, as well as blocks of apartments, need refurbishment. We must also bear in mind that many older buildings, while still in use, were built to different performance standards.
The reasons for refurbishing a building are numerous. Still, one major factor is the cost of heating poorly insulated buildings or the general deterioration of the building envelope or roof over time.  There may also be health and safety reasons such as the removal of old asbestos.
The loss of heat, air leakage and increased cost of energy are just three reasons where using well-designed aluminium panels for refurbishments provide solutions.
The design of aluminium insulated panels makes them ideal for walls, old curtain walling and general re-cladding.  First of all, the light weight and strength of aluminium panels make them highly suitable for bringing a building exterior back to life. As well as this, aluminium panels have very low U-Values thanks to the insulation used in the panel core.
The one-piece construction of aluminium panels also means fitting or glazing them is simple.  As a result, whether used in walls or the roof, the insulated core and overall construction quickly improve building energy efficiency.  Interior comfort, heat loss, total insulation all improve.  Simply replacing poorly insulated original materials offers fast benefits and save building owners money.
Reasons to use aluminium panels in building refurbishment.
Low cost with some of the best insulation of building materials.
The extensive colour choice to suit all types of building designs, steel, brick or stone.
Immediate payback on investment.
Aesthetically pleasing and long-lasting.
For nearly four decades, aluminium panels, whether standard or with enhanced acoustic and other properties feature prominently in building refurbishments.
Their single-piece construction makes handling them easy too. We expertly make our panels to suit the existing structure or glazing cavity.   Instantly the look of a property is improved, and the cost-to-benefit ratio is excellent.
Climate change and energy efficiency is another reason to consider aluminium.
With climate change and reducing our energy consumption so prominent in the news today, there has never been a better reason to use aluminium. Aluminium as a material offers long life, unlimited recycling and environmentally friendly perception. We see inevitable further changes in Building Regulations and lowering of U-Values.  Aluminium insulated panels remain favourable for energy conservation and lowering of emissions.
For older buildings, therefore, refurbishment remains the only viable option compared to relocation or the construction of new premises.
Providing quality aluminium panels for construction.
At Superior Insulated Panels, we provide a complete range of flat panels or made-to-order designs for building refurbishment and construction.  Contact us today to discuss your project or for information on our colour, prices and lead times.