Polyester powder coating is by far one of the best coating methods for aluminium panels. With a powder-coated finish, you get a versatile, durable surface finish in hundreds of different colours. From gloss, matt, satin, textured or dual colours, powder coating offers a consistent colour finish and great colour uniformity even when painted in separate batches.
There are, however, other methods of painting aluminium panels for other uses that we explain further in this article.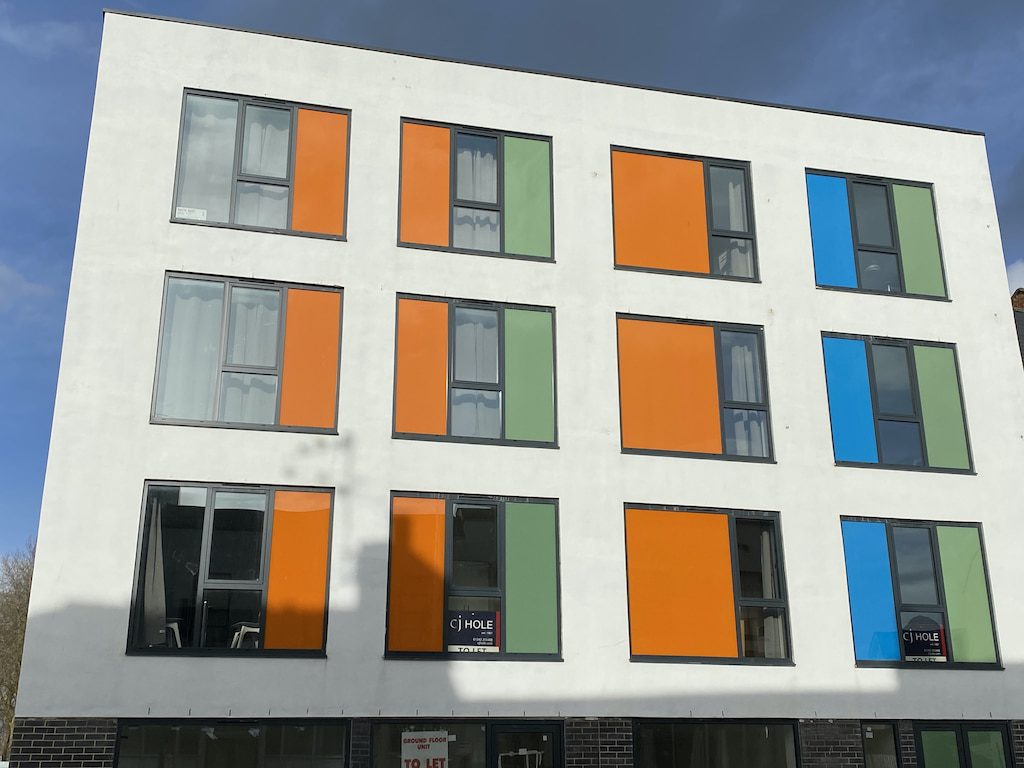 Coating methods for aluminium panels depend on the use.
There may be situations where powder coating might not be appropriate. Specifications, the product, where it's used and where there are specific performance standards. All these factors and more may mean other coating methods.
It's important to remember, regardless of the finish chosen, pretreatment of any surface is essential before finishing in the required colour.
Aside from powder coating, you can finish aluminium panels using a wet spray or electrophoretic method.
Wet spray process
This type of finish isn't suitable for curtain walling, windows or doors.  However, it is suitable for repairing damaged powder coatings.  The wet spray is the preferred method for those changing the colour of existing windows and doors and where repair on site is required.
It's important to remember that wet spray coatings on aluminium panels won't give the longevity or durability but do meet many remedial work requirements.
Electrophoretic painting
This coating method for aluminium panels gets used predominantly in automotive industries and is well known for being economic in use, suitable as a primer and also corrosion-resistant.
The benefit of this process is a uniform finish but is rarely used today in architectural aluminium as powder coating. Colour options are limited with electrophoretic painting. Another reason is the paint booths and baths with this process, often need substantial space in the factory.
Changing colour from one to another is also wasteful. Powder coating colour changes are faster, more economic, cleaner and generate substantially less waste too.
Polyvinyl Fluoride Coatings
Our Plastisol steel panels come with a PVDF (or PVF2) Coating.   PVF2 uses a resin and acrylic mix and uses the wet method of application. The advantage of this finish is its excellent resistance to UV light.  You'll find these panels widely used in hot climates and especially in southern Europe and the Middle East.
The process involves multiple coats, one being the base colour and the finished surface a top clear coat. There is some debate over the durability of PVF2/PVDF with less resistance than powder-coated finishes to scratching and abrasion. However, PVF2/PVDF coatings work well in extreme climates and fade less than powder coated surfaces.
Contact us for help and advice with coloured aluminium panels
If you're an architect, glazing installer or building contractor looking for aluminium panels, we can help.  We offer a full range of made-to-order insulated aluminium panels for all manner of commercial buildings. Our coloured flat panels also work in residential windows, doors and screens too.
Get in touch with your colours, sizes, panel thicknesses and types for a quick quotation and our lead times. We can also help you specify the right aluminium panels for your building project. Our aluminium insulated panels work with both the residential and commercial sectors, refurbishment and new build.