There are several types of aluminium louvres for windows, doors and construction. Aluminium louvres, also spelt louvers, typically comprise a horizontal arrangement of blades.  In this article we give an explanation of the louvre types and designs available.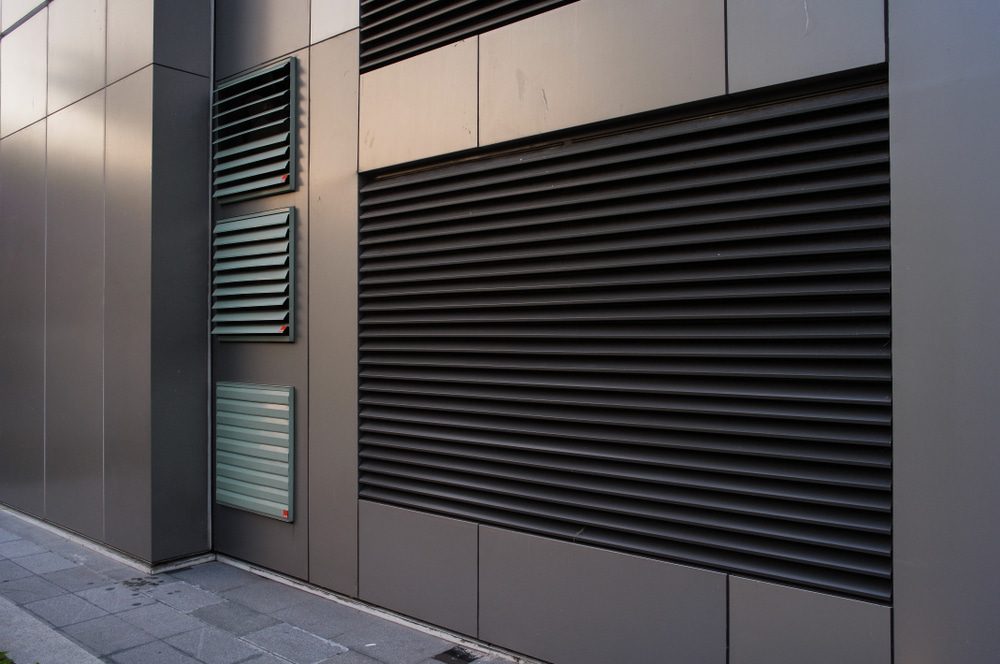 Information about aluminium louvre types and designs.
The main function of aluminium louvres is control of air, ventilation and light control.  As well as this, louvres often need to provide weather protection too. Aluminium louvre types usually come in either a direct fix type with a perimeter frame.  There are also louvres designed to glaze directly into doors or windows. 
Above all, aluminium louvres serve a purpose within a building.  As well as ventilation and airflow, louvres help with energy efficiency, weather protection, protecting plant and machinery and must last for years.
Fitted to the external wall of a building, there are louvres with or without a visible mullion.
Louvres with a hidden mullion system.
Louvres with hidden mullions create a neater appearance as they only use a surround frame.  The advantage of louvres using a hidden mullion is a more consistent apperance to the louvre seen, without the interruption of addtional profiles.
With this product, the central or intermediate mullion sits behind the louvre system.  Other designs depend on the size.  A smaller louvre screen does not require mullions behind as the size and span of the louvre allows it to fix unsupported.
Where hidden mullions exist, these come at flexible mullion centres, to suit the overall size of the unit. Furthermore, hidden mullion systems also work well in commercial buildings with several units either in a run or bank, as well as stacked to create a facade screen. The main image on this article shows a hidden mullion louvre system.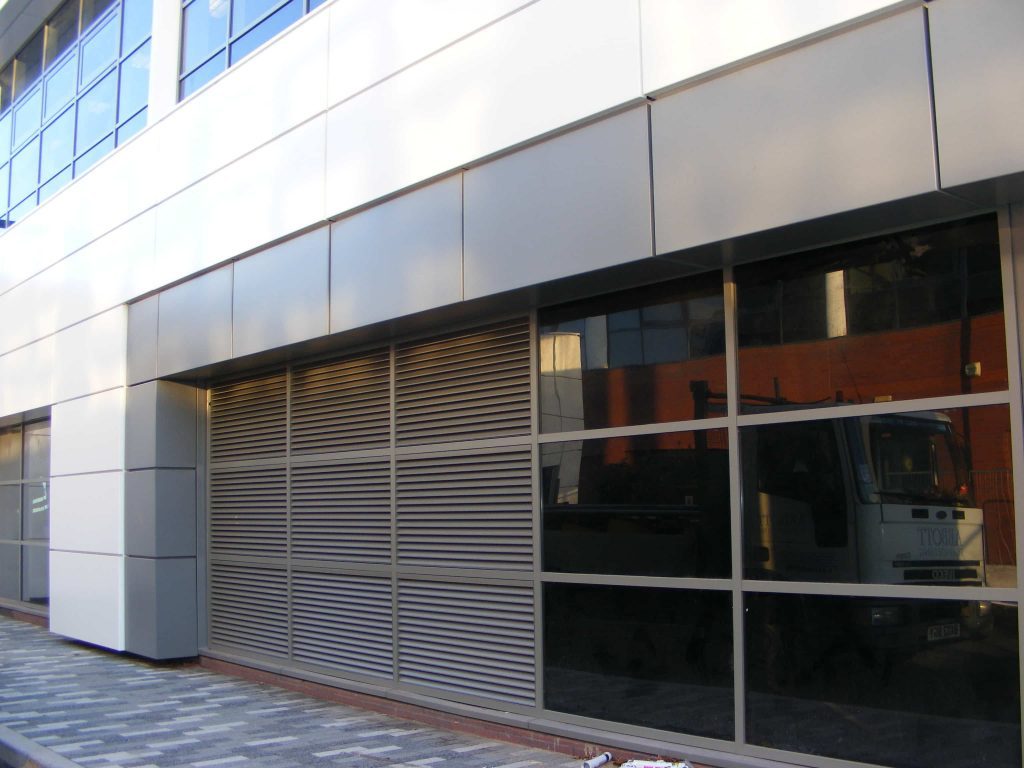 Visible mullion louvre systems.
Louvres with visible mullions, look like conventional screens with vertical aluminium sections as well as horizontal.  As you can see in the image above, in curtain walling, these create consistent sight lines and glazed panels.
The size and span of the mullions depends both on the louvre sizes used and the overall size of the screen. Other factors include the structural integrity of the mullion itself.  Mullions such as those used in facades come at depths up to 200mm deep meaning extensive heights and strength to a screen.
The other function of mullions within a curtain walling screen or window system is they provide draining of water to the outside.  Typically these mullions run full height on screens, with any water draining to the bottom and away down the cill section.  On windows, they form part of the overall window drainage system such as cill drainage or face drainage.
Perforated aluminium louvres.
Modern buildings frequently use perforated steel or aluminium sheet and cladding, creating an architectural design feature.
In these applications, louvres often sit behind this perforated metal cladding.  Not only are the louvres hidden from view, but they also continue providing ventilation and protection.  However, while these louvres perform their required function, their function can be impaired as the cladding blocks the airflow or acts as a mesh or screen.  As a result of this loss of airflow, architects often specify larger banks of louvres to provide the specified ventilation the building requires.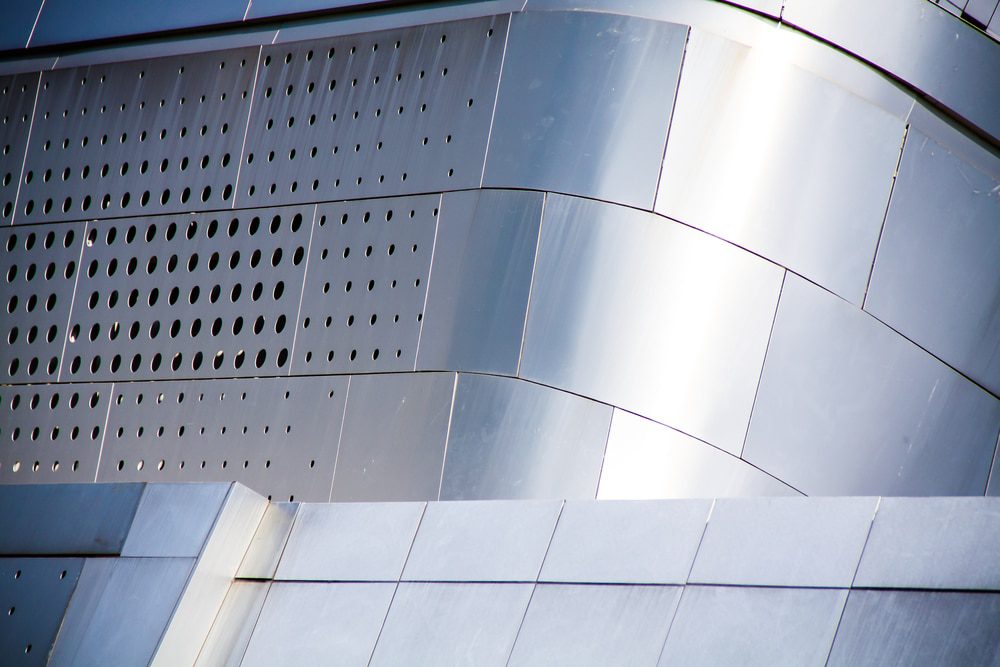 Louvres for plant rooms and doors.
Steel or aluminium doors with fixed louvres are widely used in plant rooms. Bin stores, cycle stores and building storage areas also call for louvre systems.  In these applications, aluminium louvres work within an entire door set.  As a result, the user benefits from a fully functioning secure door set whether as an access door, exit door and even fire rated doors with the right louvre products fitted.
At the same time, the louvres provide air-flow, weather protection and even come with bird and insect screens behind.  These types of louvres work within most aluminium commercial door and shopfront systems. They also work within mullion- capped or structural silicone bonded curtain walling.
Other louvre types and systems.
While not always in aluminium, also available are glass louvres, moveable systems, rainscreen cladding and other products for buildings and the construction sector. Several types of aluminium louvres are available for social housing blocks, residential apartment buildings, factories, warehouses and even private buildings.
At Superior Insulated Panels we provide powder coated fixed and glaze-in louvres for windows, doors and curtain walling as well as fully-framed products for fitting to the exterior wall of a commercial building.  Contact us today for prices and further information.