One of the most innovative uses of aluminium panels in construction is highlighted by the 'horseshoe' building in Rotterdam, The Markthal. Designed by MVRDV, a firm of Dutch architects, over 100 retail units, 228 apartments and other facilities are provided by The Markthal.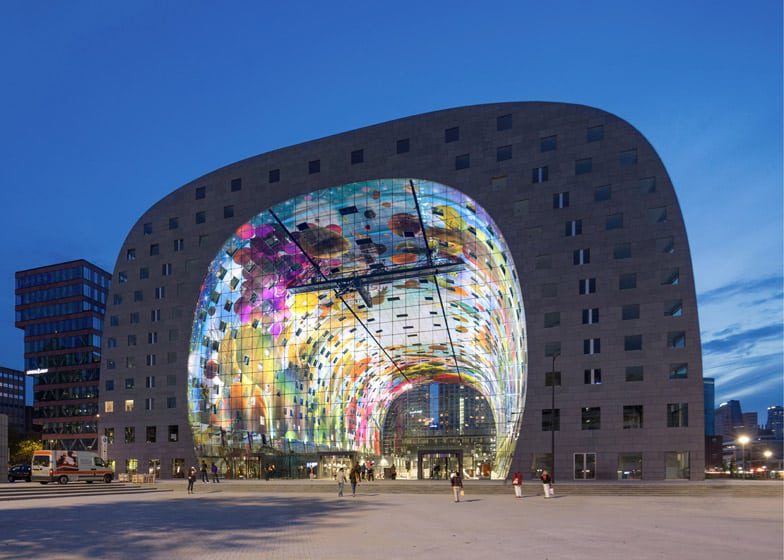 Painted and Decorated aluminium panels.
The design of this new landmark building uses aluminium panels like never before. Over 4500 aluminium panels were fabricated for the inside and outside of the building.
Internally the building enables residents in the apartments to look down at the public area below. Aluminium windows are inserted between the aluminium panels. There are even penthouse apartments suspended 40 metres in the air. The entire building makes the most of aluminium with over 1200 curtain walling panels, glazed facades and aluminium cladding panels. Curtain walling suspended on cables acts like a tennis racket whereby the facade glazing can flex in or out by up to 70mm in severe wind.
By far the most striking feature of the Markthal is the inside of the building with aluminium panels. 36000 square feet feature what many believe to be the biggest artwork in the world.
The aluminium panels cover the size of two football pitches and are painted with a variety of themes, depictions and images. Many mirror the range of products available for sale in the retail area.
Aluminium panels provide insulation and acoustic properties.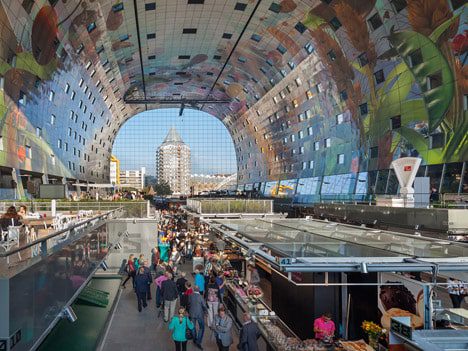 The aluminium panels feature multiple types of internal insulation and powder coated aluminium. With the help of Pixar Studios a 1.47TB image file was created so that the aluminium panels could be decorated. In order to keep the interior environment comfortable and quiet for diners, shoppers and visitors, all the aluminium panels are perforated. Perforating the panels enables the sound to remain at a normal. The printed perforated aluminium panels are then fixed to special acoustic aluminium panels for the best in noise control.
The Markthal illustrates the versatility and flexibility of aluminium panels brilliantly as well as helping to meet specific building requirements. Aluminium panels offer flat or shaped panels that can be powder coated; PVF2 finished and even anodised. They can even be printed over.
Aluminium panels also lend themselves to complex shapes and designs with flat, radiused, elliptical, rounded and angled shapes possible. With large sheet sizes possible, substantial glazing cassettes can be created to keep costs down and installation simpler.
The Markthal demonstrates the wide use of aluminium panels or interior, exterior and other specialist applications.
If you would like a price or further information about the range of aluminium panels from Superior Insulated Panels, please contact us.
(Images courtesy of Dezeen.com)