On New Years Eve in December 2015 a Dubai Skyscraper caught fire.  There are varying reports as to how this fire started on this modern skyscraper, but what was surprising was the spread of the fire.
It has recently been reported that this skyscraper fire that engulfed this hotel  may have spread even faster because of the aluminium panels cladding the building on the outside.
At 63 storeys high and designed by world renowned architects Atkins, it is logical to assume that any modern building and especially a skyscraper is inherently designed to combat and minimise the risk to occupants and the building itself in the event of a fire.
Are aluminium panels fire proof?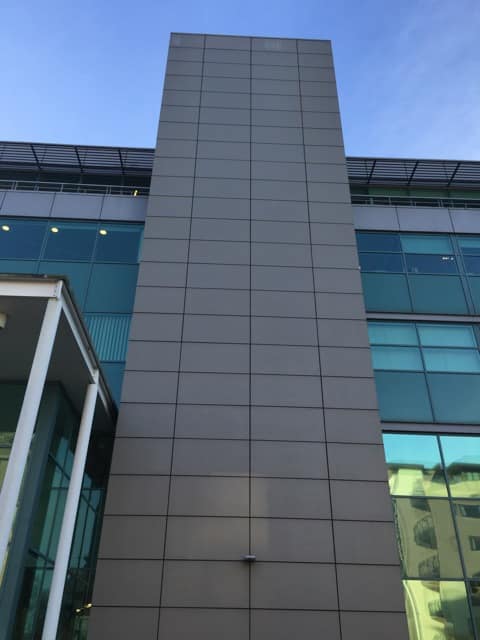 One of the reasons for the reported concern is that there are many buildings in Dubai and other countries of course that are clad with basic aluminium panels.  The construction of these will typically be a polyurethane core and aluminium sheet on the inside and outside faces.
This particular cladding material was banned in 2013 by new Building Regulations in the Emirate State.  So can it be possible that the spread of fire can be linked to the many aluminium panels that are so widely used in construction? And what can be done about the many high rise buildings that feature these panels constructed before the ban nearly three years ago?
Much of this of course will depend on the nature of the panel construction.  There are a great many types of insulation that are used in sandwich panels.  These can range from simply polystyrene, a timber core, a hardened thermoplastic core, mineral fibre and many others.
Many people choose aluminium panels for their excellent thermal insulation properties as well as how versatile and cost effective they are as a cladding material.  However when it comes to the resistance of fire, we need to examine the properties of aluminium generally.
Does Aluminium Burn?
Aluminium does not burn.  With so much aluminium recycled across a whole host of consumer and building products it's important to remember that thousands of tonnes of aluminium are fed into furnaces.  Here, the aluminium is heated up to and beyond it's melting point. Aluminium therefore melts but it does not burn. If it did, the recycling of aluminium would not be possible.
In simple terms, where aluminium is involved in a building fire and the temperature rises to above the melting point of the metal the metal will simply melt.
When aluminium catches fire, the heat is conducted away from the area under intense heat but the effect is that it could cause the temperature to rise elsewhere.
Aluminium Fire Specifications in UK Construction.
Aluminium products such as windows, curtain walling panels etc are all widely used in construction today.  They are covered by  BS 476: Part 4 and the 1974 SOLAS Convention (as amended).  They Also provide Class 1 flame surface spreading resistance. Therefore aluminium is used to established standards and the Aluminium Federation reports that aluminium also achieves excellent ratings under this Standard.
It is hard to comment on whether standard aluminium panels may have contributed to the skyscraper fire in Dubai recently.  However we maintain that architects, structural engineers and construction firms all have public and building safety at the heart of building design and construction today.  We await the findings of any investigation with interest.