For commercial constructions aluminium column covers offer functional as well as aesthetic benefits. At Superior Insulated Panels we offer a wide range of pressed aluminium column covers to accompany our range of panels, aluminium pressings, louvres and other architectural fabrications.
All are custom made by Superior and of course, custom finished by our sister company, Superior Paint and Powder Coating.
Aluminium Column Cover Types.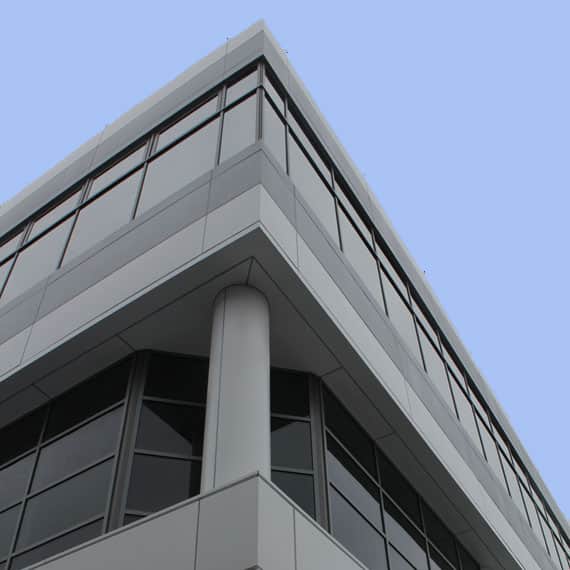 The type of column cover in aluminium will be determine at the design stage, but these can form several types.
Furthermore, it might be the case that new column covers are required to clad an existing building. Here the different ways covers can be shaped, joined and installed offer further choice.
A pre engineered approach is used to provide either butt joint or reveal joint options. These are just two of the possible ways they can be fixed.
The aluminium sheet is chosen as the primary material. This can then be shaped as well as embossed or perforated if required.
Butt jointed column covers.
When a column cover is butt jointed, this is essentially two parts coming together to form a joint.
Different types of joints can be used such as male to female connections, back to back fixings or keyhole effect fixings.
Reveal joint column covers.
Reveal joints are usually bolted to an aluminium or steel angle that is fixed to the building structure and forms a base for the aluminium column cover to be fixed to.
Insulated panel Column Covers
Where greater insulation is required, Insulated panel covers can be made. These are manufactured from aluminium with an insulated core that can be standard, fire rated, mineral fibre, resin or other materials.
The insulated covers can be fixed in the same way as standard aluminium or specialist fixing brackets can be made to suit the application.
Aluminium column finishes.
All our bespoke aluminium column covers can be polyester powder coated to virtually any colour.
The polyester powder used to finish our products is sourced from the leading global powder manufacturers such as Interpon, Tiger, and Axalta.
All guarantee a high quality finish in accordance with British Standards and Qualicoat.
Contact us for prices, technical information and lead times on aluminium panels, column covers or any other type of shaped, pressed and fabricated aluminium sections.