Guildford Business park is a prime location in Surrey that offers extensive corporate office space.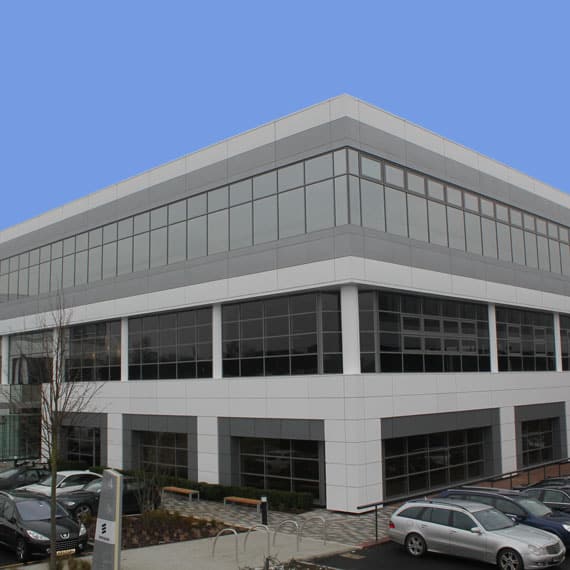 Situated close to the A3, Guildford Business Park houses some of the most prominent and recognisable office buildings. It is already home to big corporate names such as Philips, Ericsson and Colgate Palmolive.
Unit 3 Guildford Business Park was constructed in the 1980's. 30 years on and despite still being a functional and suitable business building, it was acquired in 202 by L&G Property.
The decision was made to bring the building up to modern standards, enhance it's appearance and to create a new building that would be prominent on an established 30 year old industrial estate.
The older building comprised dated colours, old glazing, aluminium panels and rain screen cladding.
The contractors, Structura UK Ltd, through the use of the latest cladding and aluminium panels have been able to over clad much of the existing building with the latest in aluminium panels. In addition, much of the original aluminium curtain walling was still functioning and performing well and much of this could be reused saving the client money.
New Aluminium insulated panels.
New aluminium panels were provided replacing the existing colour with a new metallic silver RAL 9006 finish in line with the contemporary colour schemes used extensively today.
Aluminium Rainscreen Cladding.
Much of the existing cladding was overclad with a new bespoke system also powder coated to a new colour.
Curtain Walling
The existing curtain walling was retained, however the external 50mm curtain wall cappings were stripped and recoated in a metallic silver RAL colour.
New aluminium glazing and aluminium insulated panels.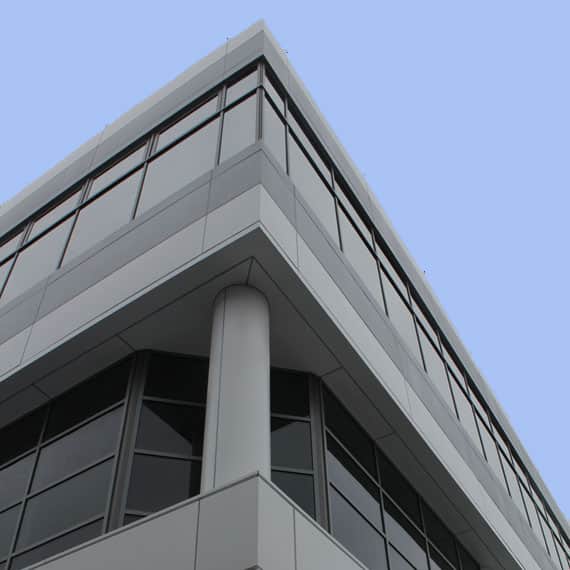 To the ground floors new ground floor framing and powder coated aluminium panels were provided. This new glazing system with panels was required in order to provide the welcoming entrance area required in corporate and business buildings.
As a result of this work and through the extensive use of aluminium insulated panels, Unit 3 Guildford Business Park can once again serve its clients, building users and the customers well for many years to come.
The powder coated materials and the extensive use of aluminium panels can now significantly extend the lifespan of this commercial building.
Not only does it now look more modern, but at the same time U-Values have been improved as well. The powder coating on the panels, curtain walling and cladding will last for longer and importantly the building overall through the use of aluminium will require far less maintenance in the future.