Energy efficiency in buildings is reasonably new. It was in the mid 2000's that changes in Building Regulations came about calling for windows, doors and buildings overall to be more energy efficient.
Older buildings built before the 1980's did not have to meet much by way of insulation requirements. Cladding was basic in the insulation it had as standard, windows and doors were largely non thermally broken.
Improving the energy efficiency of older buildings with aluminium panels.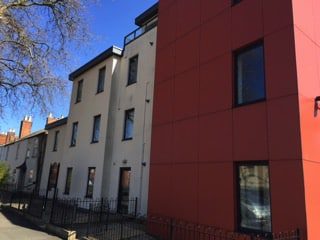 With so many buildings in use today that have little or no insulation, building owners will obviously be looking to save money on their energy bills. It is now well publicised that buildings are required to have minimum standards of energy efficiency, so how can you improve on these older buildings that cost a lot of money to heat and keep comfortable?
An obvious solution would be to add extra insulation in the same way we have to our older homes. Cavity wall insulation, loft insulation and new double glazing are solutions residentially.
Why aluminium panels can help insulate a building.
The modern insulation materials used in aluminium panels today means that even a 24mm thick panel can provide impressive thermal performance.
Therefore, older curtain walling screens can be made better with aluminium insulated panels.
With panels being available in a flexible choice of thicknesses, insulation and types older buildings can have their thermal performance improved quite significantly. This as well will often be substantially cheaper than replacing all their existing glazing.
For facades in particular such as aluminium curtain walling, this will bring an instant improvement without having to make walls thicker. Existing screens can be used.
Another obvious advantage of aluminium is its low maintenance properties. aluminium can now have very long life cycles when used with the sophisticated manufacturing, insulation and coating technologies available today.
This means that by using aluminium panels to help make a building more energy-efficient, you will benefit from:
Improved thermal performance
Improved weathering and colour retention
Much cheaper than construction of new
Longer life cycles in commercial buildings and much more.
Superior paint and powder coating offer a range of thermally enhanced aluminium panels with advanced coatings and specifications.
If you would like us to help you further with improving the energy efficiency of your building, please contact us.