Cladding panels made from natural wood such as red cedar panels are specified more and more by architects who are looking to bring a natural element to their building designs.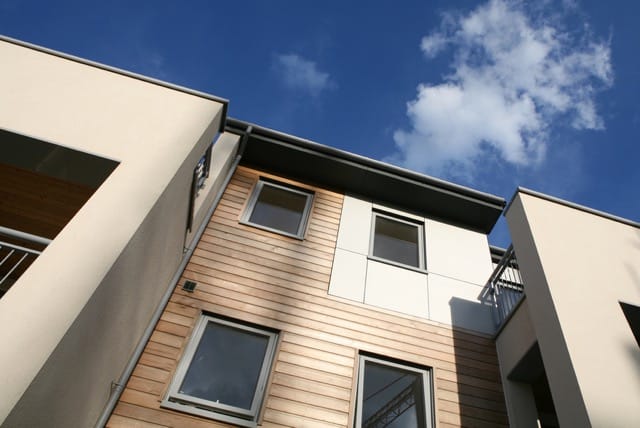 Another reason why red cedar panels and other forms of wood panels are used in construction is that they are a sustainable and renewable option.  However some building owners may be concerned that any type of wood panelling may need regular maintenance.
Weathering considerations with red cedar panels.
We often think that any external wood product is likely to suffer deterioration from the element. Typical causes are UV rays, moisture and general external exposure to the elements.
All woods contain an element of moisture, normally 15 to 20% however with the correct treatments and when specified and treated in accordance with the relevant British Standards such as BS84417, these wood panels can actually have quite long life spans.  Typically these can be 15, 20 or even 30 or more years.
Is preservative treatment necessary on timber and red cedar panels?
There are some woods and timbers that can survive very well in external applications without any form of preservative or pretreatment.
Examples of these include Larch, Red Cedars and Firs. The natural properties of these types of timbers makes them highly durable when used in external applications as they are naturally resistant to a lot of natural contaminants such as rotting, moisture and even insects.
So whilst architects and designers do consider the overall lifespan of a building, natural material do not behave in the same way as aluminium, steel or synthetic materials and therefore will be subjected to the elements.
In the design of buildings using timber, red cedar or other type of natural material in cladding panels effective pretreatment will help as will other consideration such as protecting the elevations where possible.
Look at the design of most buildings utilising red cedar panels as one example and it is rare you will see these positioned directly at ground floor level.  Raising the position of wood panels can help preserve their life.  Other design considerations is the use of canopies, brise soleil and any kind of "overhang".  All this should help minimise the effects of weathering.
As methods of construction change and as building designers come under pressure to make their builds more environmentally friendly and with good thermal performance, so the use of natural materials such as wood panels may increase. However, with modern manufacturing methods, sophisticated pretreatments and preservatives, there is no reason why timber panels, red cedar panels or other type  of wood panelling should not last well into the future.