Superior Insulated Panels have contributed to the construction of a multi-million pound student accommodation project in the Aldgate District, London.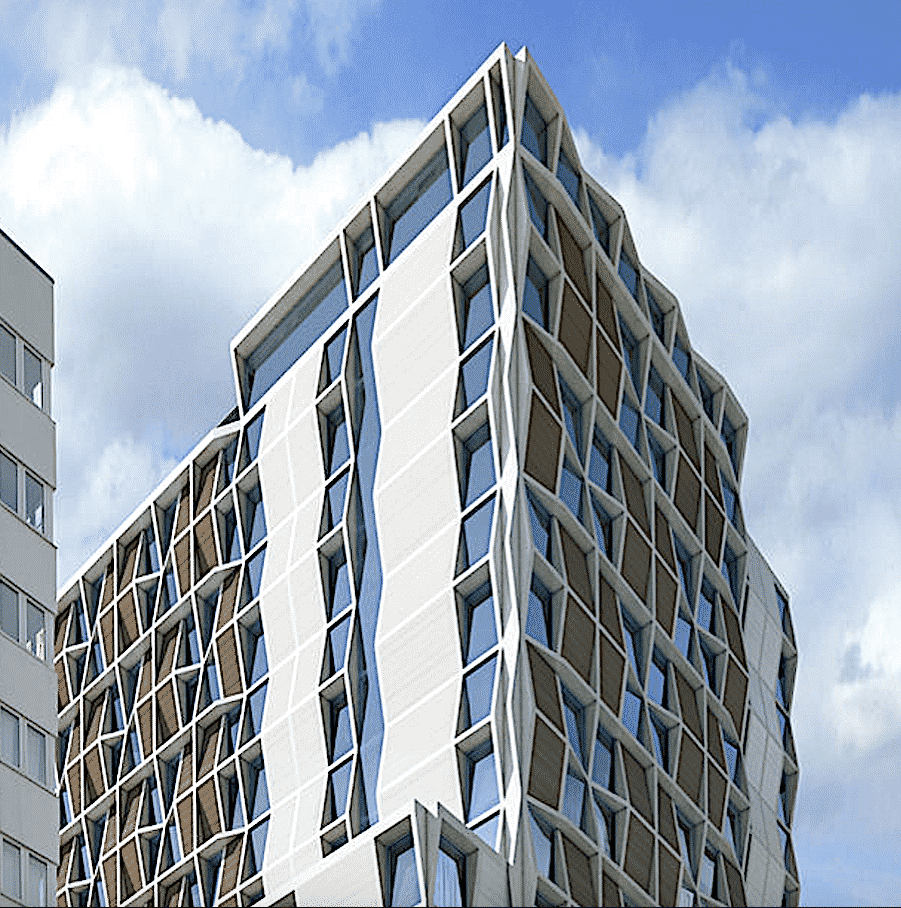 Currently under construction, a 19 Storey student accommodation development is situated at 60 Commercial Road and will be completed in the summer of 2015.  The building will consist of 417 Student rooms. At the top of the building will be a roof terrace, offering excellent views of the London skyline and commercial units to the ground floor.
Over 400 new aluminium windows protected by aluminium pressings.
There are over 400 windows on the project, the majority set back from the main facade of the building.  When windows are set back in this way, protection is required at the head, cill and jambs not only to provide weathering to the perimeter building frame but also for aesthetic reasons.
Working with Generation Estates the development managers, architects Buckley, Gray Yeoman and with Wates Construction, we fabricated a substantial amount of aluminium pressings to act as a surround for each window.
RAL 7016 Grey was the chosen colour for the aluminium pressings.
A selection of bespoke aluminium pressings that were powder coated in the ever popular Grey RAL 7016 were shaped and then powder coated by our sister company Superior Paint and Powder Coating.
In line with the contemporary theme of the building, matt was chosen as the shade for this grey colour that remains one of the most popular shades of grey currently used.
The window head and jamb pressings do an excellent job of weathering the window surrounds, protecting the perimeter frame and structure as well as adding to the aesthetics of the building.  The cill pressings had to be specially made not only to match the adjoining pressings, but also to act as an effective window cill and deflect rainwater away from the window.
All of the pressings were manufactured at our Coventry manufacturing facility using the sophisticated powder coating services of Superior Paint and Powder coating and their new Gema paint booth – one of the most advanced of its type.  Following powder coating the pressings were shaped and completed ready for installation on site.
60 Commercial Road is one of many projects completed in prime London areas for landmark buildings that are now built to meet set BREEAM ratings and we are pleased to have been a part of this major construction project.
Superior Insulated Panels manufacture a whole range of bespoke architectural aluminium fabrications such as pressings, aluminium insulated panels, red cedar panels and column claddings.