London Architects Brisac Gonzalez have complemented a multi purpose concert hall in France. Like any kind of large public building, outside of music venues it is also used for trade shows, theatre, sports events and other functions.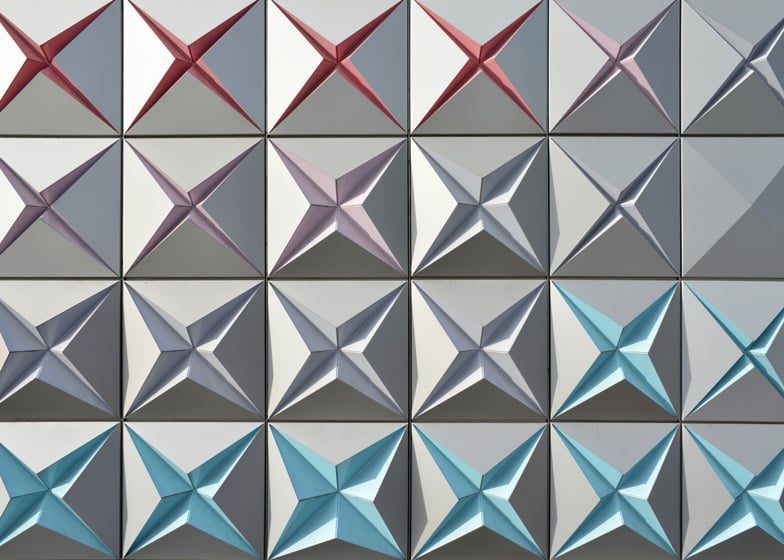 Just like many modern commercial buildings the concert hall is built from a standard steel column construction which is then infilled with a variety of other materials.
Aluminium panels played a significant part of this construction.
In this particular building there are hundreds of aluminium panels, constructed and coated in such a way to give a different dimension to the building during the daytime and night time hours.
Clever glass technology is used in the form of "glass diamonds" that cleverly light up at night to bring the building to life.
But it is during the daytime hours that the aluminium panels used in the external elevations provide not only a metallic finish but one of an opening flower effect.
Each of the aluminium panels has a pyramid design with some being closed and others open.
These pyramid-shaped panels have their various colours and shapes scattered around the building. This gives the impression of the panels opening slowly like flower buds and with the inside powder coated colour of the different panels replicating the colours of the glass at night.
indoor climate.
Even two doors that are well over four metres in height are created with the same panel effect so as not to detract from the aesthetics of the building. But at the same time they allow important access for trucks and for allowing access into the building.
Superior Insulated Panels manufacture a range of flat or textured aluminium panels including bespoke fabrications such as the examples demonstrated here.  Utilising our ultra modern factory and sophisticated powder coating plant we can provide a range of coloured, shaped or individually designed panels to meet the requirements of any commercial building.