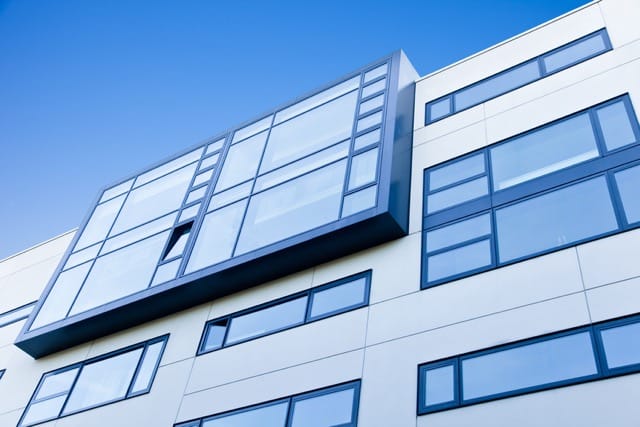 The processes and materials used to fabricate aluminium panels are wide ranging. As experienced manufacturers and suppliers, Superior Insulated Panels have the machinery, facilities, materials and above all the trained staff and knowledge to manufacture aluminium panels for commercial construction projects.
Not only are our panels manufactured to exacting standards but are also made to ensure they meet building and client specifications and importantly, current Building Regulations.
Expertise and Knowledge is important in making aluminium insulated panels
From the initial design stage and in handing your enquiry, right through to our fast nationwide delivery services you are assured of expertise, knowledge and service.
When it comes to technical knowhow on the right materials, insulation and colours and down to manufacturing we have been serving our wide client base for over 10 years.  We understand the importance of keeping costs down in any construction project.  This is why our software and machinery ensures the stock aluminium or metal sheets used to fabricate our aluminium panels are optimised in the best possible way minimising wastage and ensuring costs are kept low.
High Quality Manufacture
Colour is an essential part of any panel.  Superior have the advantage of our own in-house powder coating plant that carries out work for the most important systems companies, fabricators and installers in the UK today.  Leading construction projects benefit from aluminium extrusions powder coated by our sister company and our aluminium panels are no exception.
Our production facility incorporates the latest in bonding, lamination and pressing.  This investment in the very best cutting, bonding and lamination ensures panels are correctly cured, assembled and guaranteed for long life.  This is essential as the vast majority of panels are used in external elevations and must withstand the elements and use placed upon any public building.
Our range of external skins and faces is also comprehensive whether you require powder coated aluminium, trespa, plastisol steel and others.
Insulation is vitally important to the performance of any panel which is why Superior Insulated Panels offer insulation materials from leading names and products such as Rockwool, PVF2, Plastisol, Rockclad, Lamina and other trusted names.  Other types of insulation available include Polyisocyanurate, Styrofoam, Mineral fibres/wool and Lamella to name just a few.
As trade suppliers often we are unaware where panels are being installed.  For this reason we ensure glazing edges are durable and protected and can even supply panels with deep stucco trays often used to meet the back faces of curtain walling mullions an transoms.  These curtain walling panels are also manufactured with sealed or welded corners as specified.
Aluminium panels play an important part in the external faces of any building therefore it is important to choose the right product, manufactured to industry standards and from an experienced company.