Aluminium insualted panels are widely used in the construction of commercial buildings. For many years architects have appreciated the benefits that aluminium insulated panels can bring to the external elevations of commercial buildings.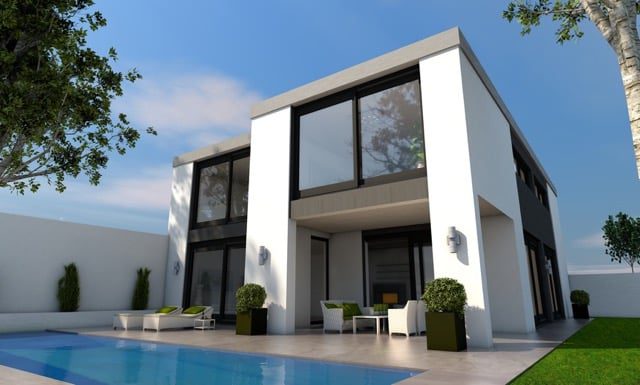 Not only do aluminium panels provide a more cost effective solution that traditional building materials such as brick, concrete or render but they provide all the advantages of strength with light weight, the advantages of colour and excellent thermal properties with low U values being typical of many insulated aluminium panels.
How about aluminium cladding for Houses?
What you may not know is that "cladding" doesn't have to mean stone, render, bricks or wood panelling.  Aluminium insulated panels can now offer benefits in the building of houses. But why?
Whilst many will instantly consider traditional building material as the best way to go when it comes to external cladding of homes, aluminium can offer the same benefits in residential properties as it does commercially and at less cost.  Aluminium alternatives now provide very low maintenance as well as offering massive colour choice, endless shapes and textures.
With more and more of us building contemporary homes or extending our existing homes with dramatic new extensions incorporating last glazed screens and bifolding doors can aluminium panels enhance the latest trends in home building and renovation?
Where can you use aluminium panels and cladding in the home?
For roofs, external walls, balconies, verandahs, soffits, facias and gutters, aluminium offers you light weight and cost effective solutions.  Coastal houses already use aluminium panels in much of their external elevations.
In coastal environments where the sea/salt air can attack the fabric of many buildings aluminium panels are now being used.  Not only do they offer exceptional durability but these cladding panels in aluminium can also be powder coated with extensive guarantees of 20 years or more against corrosion from the weather.
Aluminium panels can also be used to create great effects over bifolding doors that lead to lantern roofs as well.  This is a very popular choice today amongst architects and designers.
The advantages of colour
It is often the case that traditional building materials are limited in their colour choices.  Not so with aluminium! With over 200 colours available and these further added to by matt, gloss, satin, metallic and textured shades, the choice of external cladding has never been greater.
Grey colours today are very popular when choosing windows and doors but did you know that if you wanted grey in powder coated aluminium you have over 27 colours to choose from? If crisp white is your choice, there are over 15 different shades of white.  These range from standard bright gloss colours all the way to cream, ivory, soft whites, matt white and many more.
What other advantages do aluminium panels offer?
The insulation properties of aluminium panels have long been known in commercial construction.  With U Values as low as 0.45@m2K these far exceed many building materials as well as many door and window systems.  But not only this, aluminium panels will resist deterioration from sunlight, bird droppings, contaminated rainfall in urban environments and much more.