Changing work patters mean architects and building designers are facing different objectives and more challenging demands on how they design modern office buildings.  Office buildings dominate the skylines of most towns and cities around the world today, which is a good indicator of commercial activity as well as progress of advances in business, financial centres and economic activity.  Aluminium panels are now widely used in the construction of commercial buildings.
Modern Commercial buildings reflect a shift in work patterns.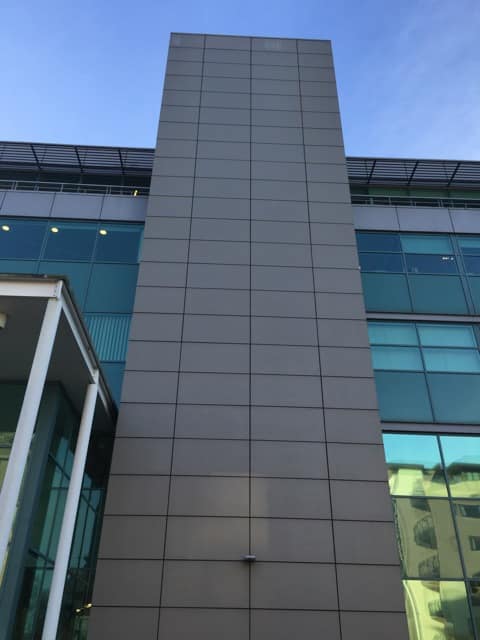 With a large number of the working population now based in commercial offices it is important when constructing a new office building to take into consideration changing work patterns, flexible working, changes in technology and that an office building throughout its life many have several occupiers.
Additionally, modern office buildings must be low maintenance, energy efficient, create good working environments and be flexible in their use.
How aluminium panels can help create today's modern office buildings.
The attributes of modern office buildings lend themselves well to aluminium panels both as  a cladding and an infill material.  In this particular office building there are several areas where aluminium panels have been used effectively.
On the main elevations, metallic powder coated insulted panels have been provided to create a full height facade but without the use of a curtain walling system giving a seamless glazed appearance.
The corner elevations also utilise aluminium cladding panels which have been manufactured as pressed aluminium corner panels.  These are manufactured from aluminium sheet which is shaped to suit the corner details and then has a suitable insulation applied with an appropriate back tray.  This will create a panel with strength and impressive low U Values.
On other elevations, aluminium panels have been used between the concrete floor slabs as an effective method of hiding the floor slabs externally.  This is a popular use of aluminium panels where curtain walling and windows span more than one floor but where glass would show the internal concrete, screening or steelwork.
As an infill material, aluminium panels are used to glaze windows and facade glazing.  One advantage of using panels as an infill material is that should the needs of the building change, these can easily be replaced with glass if required.
Powder coating also bring benefits to aluminium panels.
The long guarantees available on polyester powder coating means that panels can be specified with either standard, marine or severe environment powder coating giving many years service on colour retention, durability and exposure to the elements.