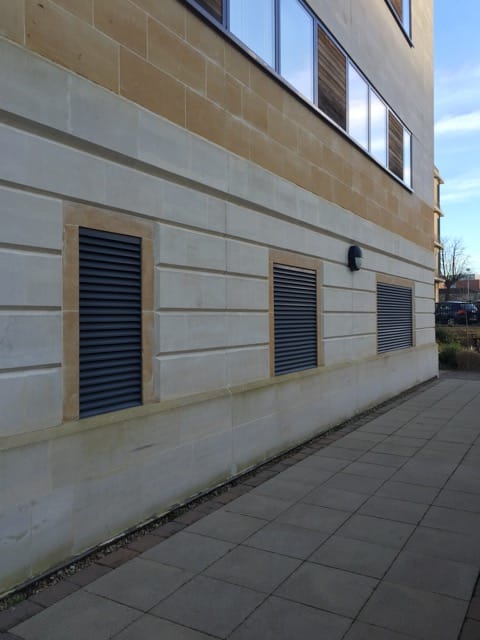 Superior Insulated panels manufacture and supply a range of aluminium powder coated louvres that can be used for a variety of applications.   Whilst often used commercially, aluminium powder coated louvres also have a place in residential buildings comprising dwellings such as flats or apartments.
In these types of buildings louvres can be used in areas of a building that needs permanent ventilation but also needs to remain weather protected.
So why is ventilation with weather protection important?
One example is residential or commercial buildings with underground car parking. The parking areas are often situated below ground floor level.  These areas have a need for permanent ventilation but at the same time a need to offer weather protection.
In the recently constructed building illustrated here the apartments are provided with underground car parking.  There would not normally be a need for windows in low-level car parks as these areas are not subject to routine cleaning like other communal areas.  Louvres offer one solution for closing off building apertures providing an aluminium "windows" solution but without glass or hardware can be easier to clean and easier to maintain in these communal areas.
What benefits do aluminium louvres provide in such buildings?
The aluminium louvres installed are powder coated Grey RAL 7016 in a matt finish.  They are directly fixed to stone surrounds and as no water drainage to the outside is required, they are also directly fixed at the cill with no additional sub-cill required.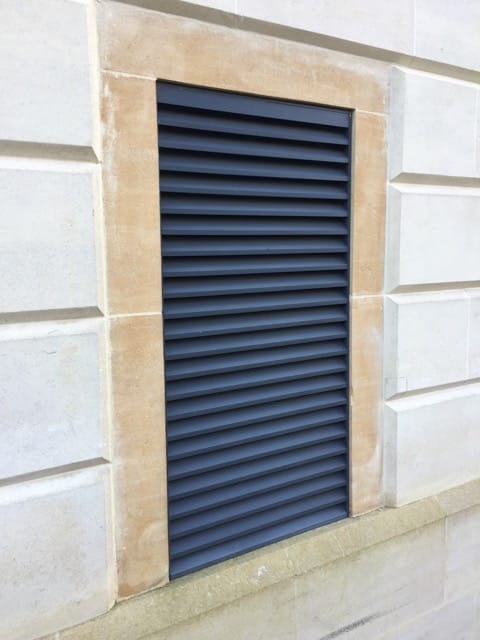 The aluminium louvres themselves are secured to the perimeter outer frame that is typically about 50mm deep.  This outer frames gives the louvres perimeter section that is used to fix through direct to the building structure.
Internally the louvres have a powder coated flyscreen that offers protection against birds, debris or leaves.  The way the louvres have been installed makes them easy to remove and replace with window, if in the future the needs of the building change and windows or screens need to be fitted.
Above the car park level on the upper floors are the dwellings also fitted with colour matching aluminium windows in the same slim profiles as the louvres themselves.
Aluminium louvres offer permanent ventilation, weather protection, all the advantages of durable polyester powder coating and are not just for commercial buildings, plant rooms and common areas.
If you would like to find out how aluminium louvres fabricated by Superior Insulated Panels can help your building, please contact us.