Commercial buildings will have many internal doors whether these are office doors, doors to laboratories, plant rooms, or other areas.  Glazed vision panels will often be fitted to most internal doors and there are several reasons why.
The first and important reason is to provide light and visibility.  Natural light is of course important and self evident and light needs to be let into any room to provide a comfortable environment.  However visibility in doors has several considerations and factors behind it that make choosing the right vision panel for an internal door important.
What should you consider when choosing vision panels for doors?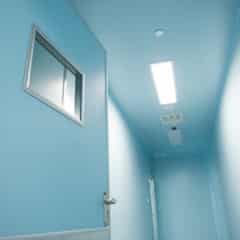 Visibility means that where doors are frequently used such as in bars and restaurants that they enable people to see through the door to avoid possible collisions with users on the other side.  A good example is kitchen doors to restaurants where staff will often be coming in and out of the same door.
The positioning of the glazed vision panel within a door is also very important, not just from a design and aesthetics point of view but also from a legal requirements.
Document M and BS8300 need to be adhered to for vision panels in doors.
With door vision panels being clear panels that are inset into doors and enabling anyone approaching the door to see possible obstacles or hazards, what must be considered to comply with the requirements of Document M and BS8300?
Approved Document M recommends that:
Fully glazed doors or vision panels are required in entrance doors, doors in corridors and in passageways in public buildings
Where you have a door leaf or side panel that is wider that 450mm wide this must be provided with a suitable vision panel.  Approved Document M states that vision panels are required to give a particular "zone of visibility".  This must be between 500mm and 1500mm from finished floor level.
The vision panel does not need to be a complete panel.  It may be interrupted by something like a door midrail, however the vision panel may only be broke up between 800mm and 1150mm where a midrail is required in a door.
Internal and external doors are affected by the requirements of Approved Document M and BS8300.
All doors whether internal or external fall under the requirements of Approved Document M and BS8300.  This means that vision is required through all types of door sets however there are exceptions.  These include:
Where privacy is required such as toilets or changing rooms.
Where security is a consideration
Where light needs to be controlled in certain environments.
It is also worth remembering that other factors may contradict with the requirements of Document M or BS8300 such as fire regulations.  Advice should be sought from the Fire Service or Fire Safety Officer in these cases.
However it must be borne in mind that Document M is part of current Building Regulations and must be adhered to.
Superior Insulated Panels manufacture a range of vision panels to suit internal and external doors.  We can advise on all aspects of these products whether they are required for timber, aluminium, panelled or steel doors and whether these are internal or external.