Aluminium Copings  are a shaped aluminium pressing that are widely used to finish off boundary or parapet walls.   When constructed of durable powder coated aluminium, they provide an aesthetically pleasing solution.
Rather than leaving parapet or perimeter walls exposed, aluminium copings now provide effective and long term weather protection of these exposed building elements.  Added to this they can add an architectural or cosmetic finishing touch.
Aluminium Copings provide weather resistance and reduced building maintenance.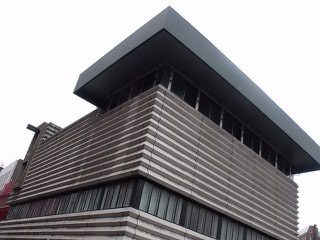 With flat roofs being typical of commercial buildings these will often have at their boundary parapet walls.  Rather than leave the top of a parapet wall exposed to the elements, aluminium copings will be specified to cap off the top of the parapet and provide weather protection.  The advantage of this is much reduced building  maintenance.
Aluminium copings provide a virtually maintenance free protection solution to boundary and parapet walls.
What types of aluminium copings are available?
Depending upon the type of wall structure copings are intended to finish off, they are available in several formats.  These include:
Contoured or Serpentine Parapet Walls
Ramped Walls
Stepped Walls
Flat Parapet Walls
Angled Parapet Walls
To any of the above wall or parapet types, aluminium copings are also available with complementing column cappings and corner details.
Why aluminium is the preferred material for copings.
Aluminium combines, light weight with inherent strength and corrosion resistance.  Aluminium copings are also easy to shape and manufacture to the coping dimensions required.  Complemented by suitable fixing brackets placed underneath the coping, they provide a weather tight covering that reduces any water ingress underneath the coping and therefore protecting the wall beneath.
The powder coated finish of aluminium means copings can be coloured to any desired RAL, BS or Syntha Pulvin colour meaning contrasting colours can be used for copings to add a contrasting colour to the rest of the building elements such as windows, cladding, or brickwork.
With many different types of powder coating guarantees being available this means copings can be specified with either standard, marine grade or severe exposure polyester powder paint guarantees. As copings are typically placed at the top of buildings where water is likely to settle on them, choosing the right powder coating finish and guarantee for the application will be important.
Syntha Pulvin powders used by Superior Insulated Panels that manufacture bespoke aluminium copings now offer up to a 40 year guarantee meaning even longer term performance of the aluminium coping.
Aluminium copings are available in a wide variety of sizes but the maximum size will normally be governed by the maximum size of aluminium sheet available which is 3 metres in length. Thicknesses can vary, but typically a 2mm thick coping is used.  Aluminium copings will therefore be shaped and manufactured to suit each individual wall.
Superior Insulated Panels manufacture a range of specialist aluminium fabrications including copings, column claddings, reveal pressings, cill pressings and much more.  If you require any further information on our fabricated aluminium sheet and panel products, please contact us.