Aluminium insulated panels are widely used in construction projects for insulation, cladding and as general architectural panels.
But what is it about aluminium as a material that makes it so ideal for use in architectural panels? For many years aluminium has been the preferred choice in windows, doors, curtain walling and screens. The advantages of aluminium when applied to windows and doors also fully apply to aluminium panels. Here is why.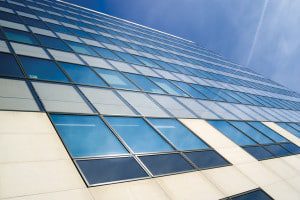 Why insulated panels are best in aluminium.
The extrusion of aluminium profiles can be carried out to create profiles to any size and strength. Additionally aluminium gets stronger as it gets colder.
Aluminium weighs far less by volume compared to other metals such as steel or iron.  Less weight in aluminium means reduced cost.
Aluminium can be shaped or extruded to virtually any kind of shape.  Post extrusion it can also be curved, twisted and shaped to varying angles. This makes it ideal for demanding construction projects where shape and form are an integral part of the architecture.
Aluminium is non corrosive.
As aluminium does not rust and protected naturally though its own oxidisation it makes it ideal for panels compared to steel.
Aluminium can be coated and finished
The excellent properties of aluminium mean in can be polyester powder coated or anodised. Any colour is possible as well as metallics, satins, gloss and matts and textured colours.
If aluminium comes under any stress or impact it is strong yet light enough to flex and retain its properties after.
Aluminium will not burn even at very high temperatures and nor does it create any toxic fumes.
Aluminium can be recycled time and time again making it the most valuable material as scrap.
Many profiles and sheets can be produced in single pieces avoiding the need for joining pieces. With aluminium sheet sections of up to three metres are possible – giving designers plenty of scope when designing architectural panels.
Aluminium architectural panels enjoy all the properties of aluminium
At Superior Insulated Panels, we have been constructing high quality aluminium panels for many years utilising all the excellent properties of aluminium.
We utilise the latest manufacturing techniques, pressing and shaping processes and all panels and powder coated in our own high specification polyester powder coating plant.