CB1 in Cambridge is regarded as the new Urban Gateway to Cambridge.  This 25 acre site of mixed use in the centre of Cambridge has been a major redevelopment that has transformed the Station Road Area.
The Development comprises a vibrant location of varying lifestyle and business properties such as offices, shops, hotels apartments and student accommodation.
Superior provided aluminium panels and louvres to the latest student accommodation at CB1
Student accommodation today needs to be constructed to provide quality living environments for the student occupiers, yet at the same be be constructed cost effectively to provide the correct rental yield for the building owners.
Aluminium remains the most popular material windows and doors. For the windows it will provide large glass areas providing light into the bedrooms and communal rooms.  Commercial doors are also constructed from aluminium and are the most fit for purpose product for entrance and fire exit doors in high use buildings.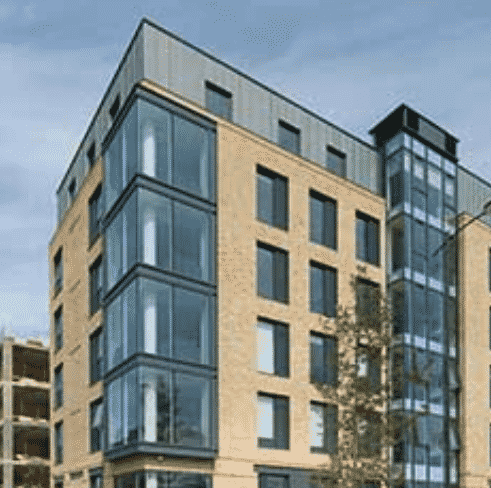 Superior provided aluminium panels, grilles and louvres to complement the windows and doors.
Aluminium fabricated panels, aluminium louvres and aluminium venilation grilles were all provided to this impressing  140,000 sq ft development providing 511 en-suite bedrooms, 112 studios and 399 apartments.
To add to the building there was an additional 9000sq foot of retail space constructed.
The aluminium panels consisted of dual colour arrangements, polyester powder voted Grey 7015Matt externally and matt white 9010 internally. This dual colour panel combination is very popular today with architects who want the contemporary look of grey outside with the softer white internally.
The windows consisted of large 1800mm high tilt and turn types and above each of those was a toplight of approximately 200mm.  This toplight was provided with an aluminium ventilation grille.  Both windows and grilles were powder coated in Grey 7015 Matt.
Also provided in Grey RAL 7015 matt were a selection of aluminium louvres with internal flyscreen.  These provided much needed ventilation to areas such as boiler rooms or areas containing machinery that need weather resistance yet permanent airflow.
The CB1 development in Cambridge is a very prestigious project that is a focal point of Cambridge City centre.  The extensive use of aluminium panels, louvres and grilles will ensure the building serves the needs of the community and students for many years to come.