There are a variety of commercial buildings in modern retail parks and business centres around the country. All calling for a variety of architectural products, many of which will be provided in powder coated aluminium.
These products are not restricted to just windows and curtain walling but also include aluminium panels, aluminium louvres, pressings and pressed aluminium sheet which is used to cover bare structures or columns and provide aesthetic appeal.
Aluminium is the most dominant material in external cladding and glazing of modern commercial buildings.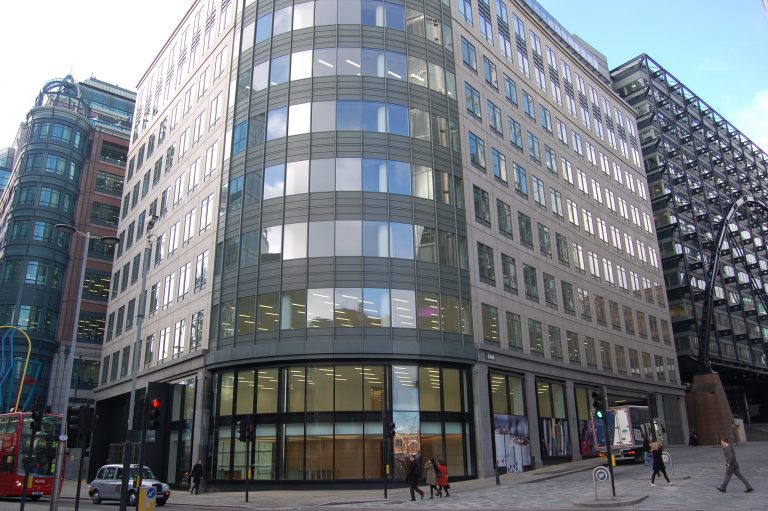 The building shown here is an excellent example of where several aluminium products are used to bring the external envelope of a building together.  This commercial building in Guildford, Surrey is very well known in the area and is home to many large multinational companies including the consumer electronics giant, Philips.
Curtain Walling
Curtain walling is today widely used to create glazed facades and glass walls.  Constructed from box aluminium mullions and external cappings, curtain walling is largely polyester power coated by specialist finishers and delivered in bar length form to the manufacturers for fabricating and installing on site.
Aluminium Louvres
Aluminium louvres are required where natural ventilation is needed into a building and where plant rooms need external covering with suitable ventilation.  Typical plant rooms include air conditioning areas, lift shafts, heating areas and boiler rooms.  Here aluminium louvres are required to withstand external elements and polyester powder coating lends itself perfectly as it has a long life of at least 15 or 20 years.
Aluminium Panels
The use of aluminium panels in commercial buildings is widespread.  Panels bring several advantages to commercial buildings such as cost effective cladding, excellent thermal properties where building U values need to be achieved and diversity in design and construction.  However where these aluminium panels are powder coated they can bring either a contrasting theme to a building elevation or blend in perfectly with aluminium windows, curtain walling and louvres.
Superior Insulated Panels manufactured and powder coated the louvres and aluminium panels in this landmark building in Guildford enabling their client to source the required products from one supplier.  Utilising their in-house powder coating facility, Superior Insulated panels were able to provide all the critical elements of the external building envelope to complement the large expanse of glazed curtain walling also used and powder coated.
Contrasting powder coated colours were used to create a subtle yet visual impact.  The aluminium louvres provided in dark grey powder coated complement the lighter aluminium cladding panels above and sit alongside the curtain walling also in a contrasting colour.
Superior Insulated Panels are unique in being able to provide clients with powder coating, panel and louvre products all from one supplier saving substantial time and money and removing the need to source all these critical products from various suppliers.