The use of aluminium panels has grown significantly in recent years with panels and aluminium cladding materials becoming increasingly popular.
This is particularly true in the construction of commercial property. Aluminium insulated panels not only add to the aesthetics and appearance of a commercial building, but they are a very cost effective alternative when compared to other building materials.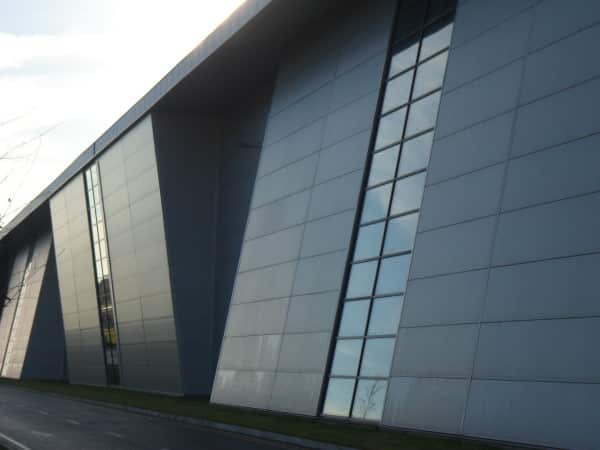 Powder coating is the most common finishing method used for aluminium panels owing to the sheer choice of colours, textures and durability.
It is this massive choice of several hundred colours, available in satin, matt, gloss or special finishes that makes aluminium insulated panels so versatile and popular.
Selecting Colours for Powder Coated Insulated Panels
But the finishing of aluminium panels does not just stop at standard colour ranges. Expert powder coaters can also match to other colours. Domestically as one example, many homeowners won't be aware of the RAL or Syntha Pulvin colour charts that the fenestration sector uses and in choosing a colour for their aluminium windows or doors may be referring to the freely available Dulux or Crown colour charts used in domestic decorating paints.
If a customer is insistent on matching a particular colour found in a domestic type paint swatch, it can still be matched and a price for matching this required paint finish will need to be obtained.
Regardless of the colour chosen, it is this huge colour choice and the undoubted flexibility of polyester powder coated aluminium insulated panels that makes them so popular as a glazing and building material.
Coloured powder coated Aluminium panels when used in construction can also be complemented with other products to create a complete colour solution. There are column casing, flashings, gutters, fascias, trims and cill sections that can also be powder coated to match all adding to the advantages of powder coating elements of a building.
Panels are today widely used in curtain walling, doors, windows, column coverings between windows, can achieve specific U Values, are available with many glazing edge options and can also be used in cladding.
We manufacture and supply powder coated aluminium panels and have additional advantage of polyester powder coating all our own material in our extensive and modern powder coating plant.