Modern aluminium panels are now a key part of modern commercial buildings and offer several advantages in construction.
Aluminium insulated panels have come a long way from the basic polystyrene filled thin walled panels of old and are now manufactured to enhance many aspects of modern buildings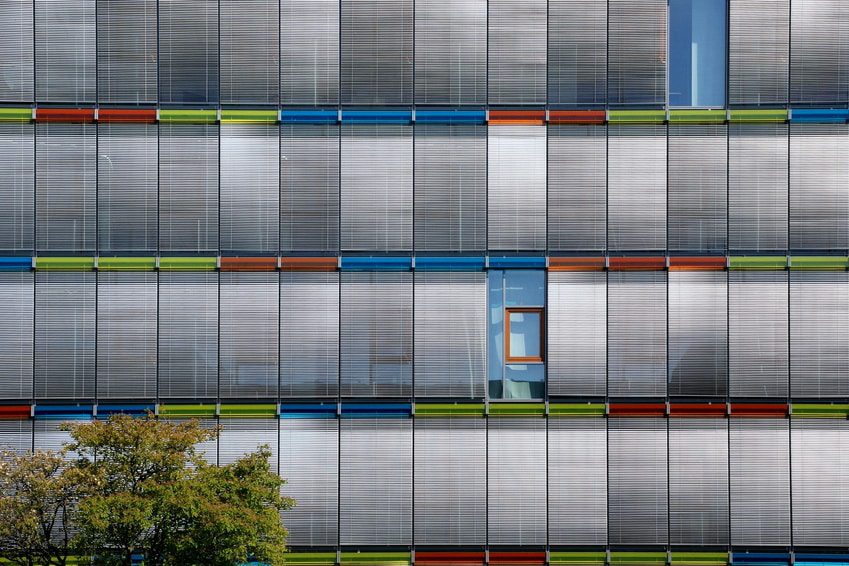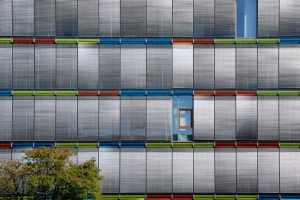 Insulation.
Did you know that aluminium panels, where required, can meet U Values of 1.0Wm2K or lower making it ideal in achieving thermally efficient buildings? There are many types of insulation materials used in aluminium panels today that can offer either standard or enhanced U Values.
It is the highly insulated core of aluminium panels that helps to achieve these excellent insulation properties. This when combined with the internal and external facing materials will help to improve the overall energy consumption of a building.
Colour.
One only needs to look at how doors, windows and facade glazing has changed in recent years to see that colour now plays a very important part not just in commercial buildings but residentially as well. Aluminium panels can be manufactured in contrasting colours to the windows or doors to achieve really striking effects.
This has already been used for a number of years in schools and other buildings throughout the country where the use of contrasting colours in panels and aluminium window systems can give a really modern and aesthetically different look to a building.
Building refurbishment
Perhaps there is an older building that needs a new lease of life? Aluminium panels can transform a building without resorting to brand new windows or screens. The simple changing of existing panels in curtain walling or other screening can bring an older building to life.
A range of glazing options.
It is easy to assume that aluminium panels are only available with square edges just like glass. Today's modern panels are available with a diverse range of edging options that make them suitable for glazing into windows and doors of all systems.
Curtain walling is often manufactured with mullions ranging from 50mm right up to 200mm in some systems. Where panels are required to be flush with the inside faces of curtain walling mullions and transoms, they can be fabricated to create flush edges, yet still being glazed in the existing glazing rebate found in most curtain walling systems.
Creative Doors
Did you know that if you have an existing aluminium door you can replace the glass with a contrasting coloured panel and retain the existing door? Aluminium panels when used as door infills are also available with glass vision panels, textured finishes and will even accommodate a cat flap!